We've been monitoring Facebook's ad targeting choices for several years and our latest audit reveals a number of significant changes.
As always, we've listed out all the available audience segmentation choices available in our Ad Targeting Worksheet which is now available for free download from here.
So, what's changed for UK marketers in recent months?
Gone but not forgotten:
Facebook has removed the option to target people with interests in 'dieting', 'gyms', 'nutrition' and 'Zumba' (yes, I've never tried it either).
Targeting by sexual orientation is no longer available so the options to aim ads at people who are 'Interested in… Men ', '…Women', '…Men and Women', and '…Unspecified' are gone.
People who are 'Currently traveling' or 'Business travelers' are no longer targetable; you'll have to make do with choices like 'Frequent travelers' or 'Commuters' instead.
The lower income brackets are gone too, so you can no longer target ads  at UK people with incomes '£20,000-£24,999' or '£25,000-£29,999'
New and shiny:
Facebook has added choices to target people based on how long they have owned a mobile device, with choices as follows:

Less than 1 month
1-3 months
4-6 months
7-9 months
10-12 months
13-18 months
19-24 months
25 months+

There's a whole new section related to (presumably high value) soccer fans and their friends, with options to target:

Friends of Soccer/US Soccer fans
Soccer/US soccer fans (high content engagement)
Soccer/US soccer fans (moderate content engagement)

And, for the US only, there's a new Multicultural Affinity category that allows targeting by:

African American (US)
Asian American (US)
Hispanic (US – All)
Hispanic (US – Bilingual)
Hispanic (US – English dominant)
Hispanic (US – Spanish dominant)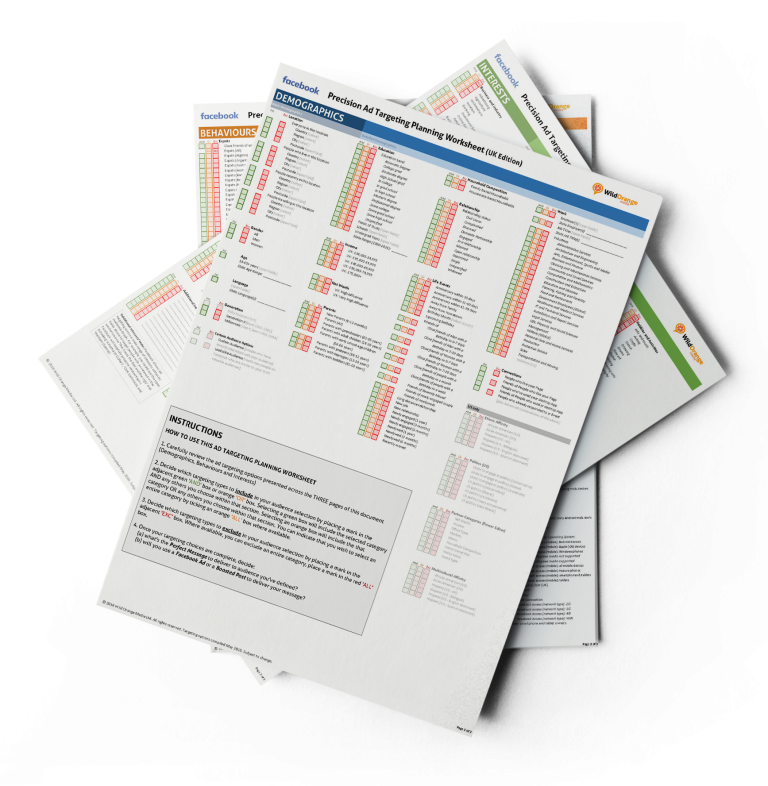 With that information, you're bang-up-to-date once more! Facebook appears to be bowing to public pressure by removing some of its more contentious targeting choices like sexual orientation and eating/nutrition-based groupings. We expect this trend to continue with some of the more intrusive options likely to fall under the media's spotlight in the months ahead. And the newly added options bring little of great value for marketers, unless you happen to be targeting people with a strong interest in soccer (great for sports brands and teams) or Facebook users who have owned a mobile device for a very specific length of time (great for mobile device and app manufacturers).
As always, download the worksheets from our website here: www.bit.ly/facebookuktargeting and let me know what you think.